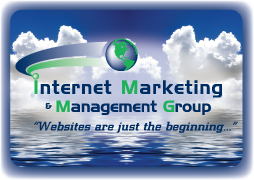 | | | |
| --- | --- | --- |
| | "...Wayne and IMMG took my business from idea to plan to reality! He has guided me every step of the way and offered sage and seasoned advice. His team has been original, timely and dedicated to my success and the end result has been spectacular! Every step of the process has been meaningful and added to my cache and business development, I couldn't be more pleased with IMMG and I'm sure to be with them throughout my career." - Rich Mendelson, President of CME | |

About IMMG
Who is Internet Marketing and Management Group?
Internet Marketing and Management Group (IMMG) was founded on the belief that we can provide our clients with the tools they need to outperform their competition.  We deliver integrated services by providing a single, cohesive source for Web-centric marketing and management.  Our integrated programs are supported by cutting edge, Web-based technology.
IMMG provides full internet marketing and management services to small and medium-sized organizations utilizing both Web-based and traditional media.  Our services include Website, logo and print design; SEO (Search Engine Optimization to get your company on Page One of Google),  PPC, marketing campaigns, branding, managed ROI, and public relations. 
IMMG is a 24/7 company with teams based globally to work as fast as your company needs. We pride ourselves on hard work, no shortcuts, and the power to get solutions done right.
Why IMMG?
We bring the business team together that you need to turn your enterprise into a streamlined, profit-generating growth business. We add value to your business by cutting your cost per lead, increasing your conversions and increasing your margins.
Many businesses do not have the time or expertise to devote to the IT "jungle". However, that untapped IT resource is what can take your business to new heights! A superior resource of speed, accuracy and streamlined processes awaits you. At Internet Marketing and Management Group we have a group of providers with whom we partner to bring you the spectacular results that come with cohesive Fab-integrated solutions. Based on extensive and detailed research, professional business skills, hard work, and standardization of proven systems, we lay the foundation necessary to maximize your return on investment.
How do we do it?
You will notice that our culture is very plain. We mean what we say and say what we mean. We have helped small and large companies, and the approach is always the same: explore, strategies, plan, get IMMG services in play and let the results follow.
We enhance the cultures of companies by quickly adapting and partnering with teams and leaders. We offer clear answers with our honesty and integrity apparent from the onset your company will reap the rewards of our integration.
We offer monthly pricing for the majority of our services and there are no hidden fees. We will save you money through our IT services and management solutions.
Our departments work together seamlessly; with this more efficient and streamlined process, the return will be noticeable on your bottom line.
We utilize the same innovative IT solutions and management processes we offer to you. These standardized systems will brand your company, streamline your efforts, bring you closer to your customers and yield healthier margins
When these processes are integrated with leading edge technology, implementation services, and the professional marketing expertise of a Fortune 100 company, you have the power to gain your competitive advantage.